highway
Est. 2000 in NYC. Practical, playful and durable design.
Bags made with premium high-quality nylon and genuine leather.
Boundless discoveries for unique, refreshing colors.
Seasonal new arrivals and timeless signature styles available for nationwide free shipping.
Perfect for travel and treating yourself.
Take the highway!
Testimonials
Love these bags...perfect for city life and they hold everything you could possibly want to carry with you. I am hooked!

Donna Sasso
Love that it's crossbody and lightweight -- perfect for travel. Lots of pockets, and two are big enough for my camera. Love it!

Kijang
Love this bag, it is my third one. The compartments are very userful and the design is both stylish and practical. It is my go-to bag.

Rusty
My 3rd Highway Bag. Lightweight with perfect pocket placement.

Cathy A. Harvey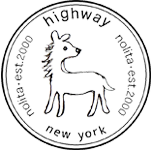 Highway's mission is to create sustainable, modern products that support urban life with style and quality.
Let's make way for a more organized mind and lifestyle, and enjoy unique design and color.