About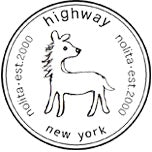 About Highway: The Story
It was the year 2000, in NYC.
Totes ruled the land of bags.
Most were hard and padded.

Jem Leaf had established a decades-long design career in textile, fabrics and fashion.
Practical bags with softer structures that fit her body suited her urban lifestyle best.
When unsatisfied with what little she saw out there, she began creating them herself.

In love with materials, she combined beautiful vintage fabrics and Japanese premium textiles.
Every season, year in and year out, she continued launching strings of collections and items.
They showcased sweeping varieties of refreshing styles and those unique embroidery motifs.

Some of the bags had a lot of zipper pockets, making for safe wear in busy crowds.
They were cross-body shoulder bags that fitted the body comfortably without stress.
Of the styles, the Multi-Pocket Shoulder Bag grew in demand, outshining the others.

Large LUCY was the original and first of its kind, and then came the small NICO.
The medium size TEELA came after, and there were variations like petite PETE.
Since its 2003 launch, the Multi-Pocket Shoulder has barely changed in design.
As a result, an estimated 250 colorways of NICO were released over the years.

Jem's passion has remained strong and consistent and translates directly into Highway's designs:
Using durable nylons, playful and utility-oriented compositions, and most important, original colors.
Nowhere else will you find these unique, subtle, grounded tones, dyed with earth-friendly methods.
Her pursuit for these challenging-to-create and easy-to-wear colors each season proves relentless.

Jem opened Highway in Nolita in 2000, and since its brick-and-mortar doors closed in 2020, Highway continues to serve its customers online.
The brand's fans have also enjoyed the original collections of handmade jewelry, printed scarves, knit hats and a very popular line of wallets.
The possibilities of discovery are boundless and exciting, and Jem hopes you will find a dependable Highway companion to love and care for.